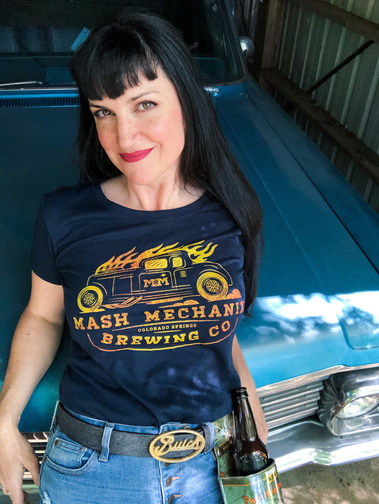 Mindy Gibbs moved to the Pacific Northwest in late 2006 after spending most of her life growing up in Anaheim, CA. Already having a taste for craft beer, she quickly fell in love with Portland, OR and its beer scene. Mindy was suffering after spending years in office cubicles and needed to find a creative outlet. She took several short-lived jobs during the first few years in Vancouver. There was the outpatient mental health clinic, a collection agency, a flower shop, and then the most soul-sucking stamp collector shop job. Was something telling her to get out of the office environment? Not exactly. Something was telling her that working for someone else was not her jam.
In September of 2010 she created a bracelet out of a Bridgeport Brewing 6-pack box to honor her favorite cat, Bridgeport. Her brother then challenged her to make a wallet using the same technique. In April of 2011 she sold her first beer wallet. In July of that same year she sold her first luggage tag. Social media became her free marketing outlet with the help of blog mentions and magazine features. Widmer Brothers was her first wholesale customer, launching her into a higher level of productivity. On Friday night art walks in downtown Vancouver, WA you could find her selling her small inventory of items at a bottle shop's table while drinking a beer. Sometime during 2011 she quit that loathing stamp shop job with the intent to put all her efforts into making beer gear.
In 2013 Mindy became a mom and that same year Mindy's Beer Gear evolved. She saw this thing she had created as an opportunity to work from home and be with her son 100% of the time. Sierra Nevada Brewing placed a few bulk orders that were larger than anything Mindy had taken on before. She also booked herself vending gigs at local beer fests filling the space of a 10x10 tent instead of a small 4 foot table. What started as little batches of 10 wallets, which seemed like a lot at the time, turned into month-long projects of multi-hundred pieces.
Today, Mindy is still trying to make this craft gig keep her working from home and to remain available to her son before and after school (or during virtual school). She is always trying to reinvent herself with new beer gear and comes out with new designs every few months. Follow her on Instagram (@mindysbeergear) and subscribe to her email lists are the best ways to stay on top of the latest.